A CRASH COURSE ON THE ANATOMY OF ROBOTS, BY KENT EVANS

A Crash Course On The Anatomy of Robots is sort of a love song to being an artist, travel, the death of my parents, and disastrous relationships. The Crash Course bit comes from how the novel is arranged, which is thematically, rather than the more traditional chronologically.

The Robot bit refers to a perceptual anomaly in robotics. The uncanny valley is a statistically valley that occurs with certain humanoid objects. Basically up to a certain point, non-human things are more and more endearing the more human they appear (think the Smurfs, Yoda). Then right around when they are practically human there's this mathematical nosedive where everyone just gets creeped out and disgusted by these things cause they are so close that all you see is how they're not human (think that weird human Barbie chick). In the book, this is used as a metaphor for social interaction and a sense of loss in traumatized people – like Damien.

You could say my mother's death in 2003 from cancer right before Malas Ondas came out, my fucked up relationships following it, and fleeing to Southeast Asia in 2006 would be the prime motivators for writing the novel. Damien's struggle in the book was part of my way of piecing together what was happening to me. I came back from Asia sane again (the same can't quite be said for Damien), and started compiling all my writing and notes from the time. Jillian Medoff, a fantastic writer and former professor of mine at NYU, helped me get through the initial attempts at forming the novel. Then I spent a good deal of time with my editor Carolyn Fireside battling away at drafts till we finally had something I think is pretty unique.

Another unique part of the novel is the accompanying soundtrack that I wrote and performed for it along with some very talented musicians. Once we started playing it just fell into place and seemed like a perfect fit for the eReader versions to best utilize both the technology and showcase myself as a multi-platform artist. When you buy certain versions of the novel electronically it gives you the option to hear those pieces narrated/performed with musical accompaniment. More traditionally if you buy a physical copy you can either download the album from all major distributors, or order a physical CD from Amazon. For a novel with Robots in the title it only seemed natural to embrace the benefits that come with new technology.

I wanted to write a novel for the new millennium that tries to capture some of that detachment we are all feeling in a world where technology has made the ability to connect so much faster and easier, yet many of us feel a profound sense of isolation. Damien's self-absorption and loneliness is very much a product of how he feels in these times. The lack of consequence of many of the things he does is something that is very much of our current era, where everyone from banks to Politicians to pretty much every public figure has become experts at living without consequence and dodging blame.

As I say in the book I am not Damien, but I suppose Damien is me. By that I mean he's definitely got more than a little bit of me in there. It's fiction, but more than a few events of my own life have made it into the novel. It would be a mistake to think that you're reading a novel about me, but it is a novel inspired by certain events in my life.

Author Biography (Kent Evans)




Kent Evans is the author of Malas Ondas: Lime, Sand Sex and Salsa in the land of conquistadors, a semi-autobiographical novel about selfdestruction throughout Latin America and finding that corniest of motivators – love. He was a fixture on the spoken word and experimental art scene throughout the 90's, and the internationally acclaimed artist has performed at such venues as the Festival Internacional Cervantino, Madison Square Garden Theater, Acadamie Beaux Arts in Paris and Nuvorican Poets Café in Greenwich Village.

Kent has appeared on NPR for shows including Nuestra Palabra, the Front Row, and Living Arts showcase. His creative non-fiction and opinion pieces have appeared in numerous national pop-culture and literary zines and publications.

Having also done technical and academic writing for various Fortune 500 companies, Kent is currently pursuing his artistic craft through music and fiction. His performance of choice involves gathering nontraditional musicians – DJ's, classical players, Latin funk bands – and performing poetry in a live Jazz/Trip-Hop format.

His forthcoming novel A Crash Course on the Anatomy of Robots releases September 17, 2012 from Pangea Books.

Half Cantonese and half UK, Kent was born in New York City in 1975 and grew up between New York, Connecticut and Rhode Island. He graduated in psychology and dramatic literature from New York University, and began traveling extensively throughout the US, Canada, Mexico, Europe, Asia, and the Caribbean. He fully expects to answer that "but where are you really from" question the rest of his life.

Synopsis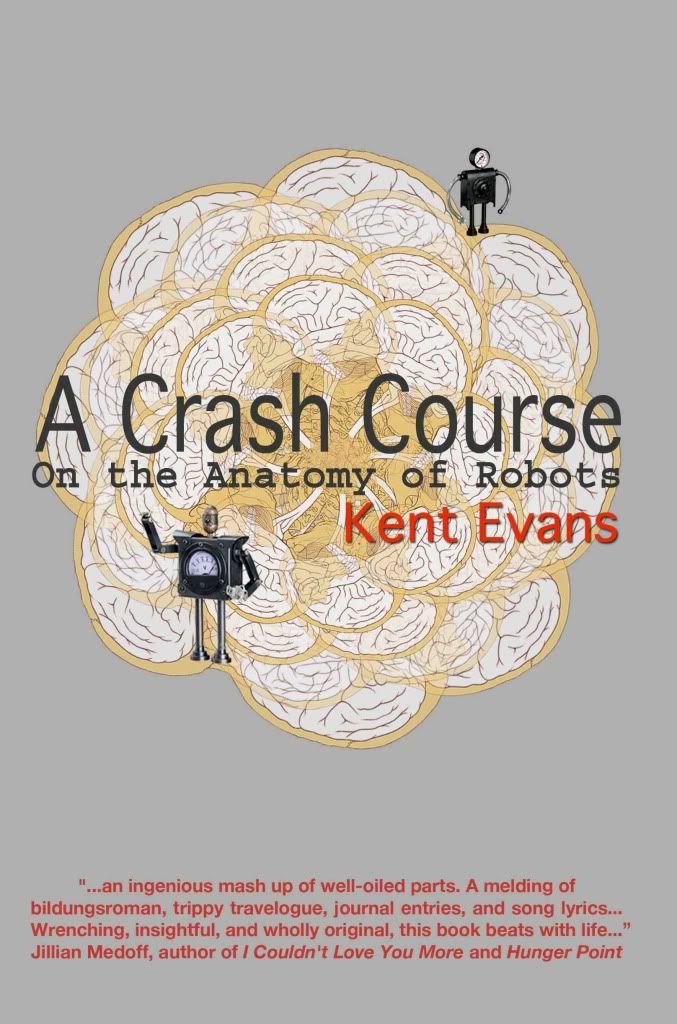 BOOK DETAILS

Paperback
ISBN: 978-1938545016
eBook
Fiction, 339 pages
Pangea Books, Sept. 17, 2012

Gripping action-adventure, travel fiction at its most alluring, the high-insight chronicle of a rootless spirit's search for grounding thru the minefield of terror that is the Postmillennium: Kent Evans' A CRASH COURSE ON THE ANATOMY OF ROBOTS marks the arrival of a novelist whose impressive literary gifts are matched only by his mainstream narrative powers.
Damien Wood's path to adulthood in the last decade of the 20th century seems delineated by astonishingly effortless success – creatively, financially, and sexually. And yet his half-Asian lineage with its inherent and irreconcilable cultural clashes is coupled with the inability to be affected both within and around him by people and circumstances. Hurling himself with abandon from place to place and from one hollow commitment to another has absolutely no existential impact on him. Damien Wood is a robot convincingly painting the self-portrait of a daredevil artist as a young man.

Then, the century turns. As Damien's mother dies after a long and agonizing illness and 9/11 inaugurates a new reign of global terror, the full spectrum of Damien's emotions, from desire to despair, begin to emerge unbidden. These birth pangs of humanness will send him to Asia on a mordantly comic, frighteningly dark odyssey through Southeast Asia in the company of an expatriate colony with too little to lose, including values –until the violence which is the 21st Century's signature come to claim him
as its own: no longer a robot, Damien Wood has become a wanted man... Consummately suspenseful, compulsively readable, at once approachable and ambitious, A CRASH COURSE is an embarrassment of riches for everyone who loves a great read.
The original soundtrack for A Crash Course On the Anatomy of Robots was written and recorded at On Studio in Guanajuato, Mexico. The album will be available on iTunes prior to the release
of the novel and come free as a companion piece with the Kindle version.